Few bamboo rods garner as much attention (particularly in western circles) or generate as much confusion as EC Powell rods seem to. These rods in some cases are quite old and as with Walton's rods, EC Powell rods were not built and sold with the future collector in mind. Often I see rods that have obviously been back to the shop for repair and/or restoration - sometimes multiple times. The information provided below is to be taken with a grain of salt. These are general rules I have managed to piece together over the years and are in no way set in stone. If you have questions about a particular rod get in touch with an expert, preferably with the rod in your hands or better yet in the expert's hands. On to the info...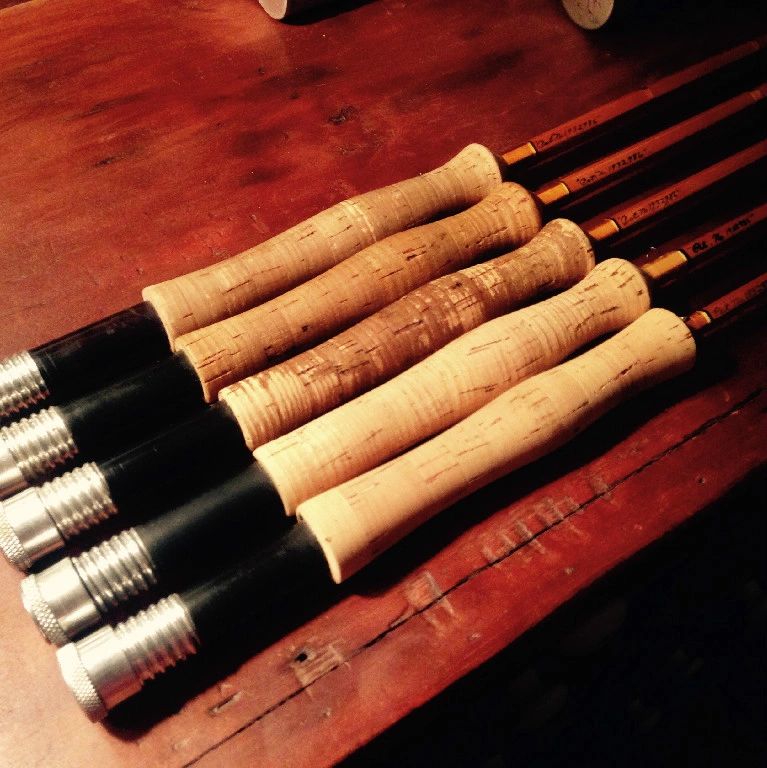 EC Powell started building rods in Red Bluff, CA in the late teens/early 20's. He shortly moved to the C street shop in Marysville where the EC Powell shop remained for the rest of it's time in business. EC Powell patented a type of semi-hollow bamboo rod construction. This was inspired by the fact that in those days tournament casting rods were entered into competition class based on weight. A lighter rod capable of casting more line was a serious advantage.
EC's rods came in three primary tapers. The A, B, and C. In simple terms...
The A taper was the fast taper. This taper increased rod diameter a little more quickly in the lower, or butt section of the rod, causing the rod to be slightly stiffer in the lower portion, favoring tip action and resulting in a faster action rod. The C taper was the slowest action taper. It favored a reduction in taper rate in the lower section of the rod which resulted in a fuller flex into the bottom of the rod and a slower casting action. By far the most popular taper was the B taper. A "straight" or pretty much linear taper, the B was a middle ground in casting action. There were tweaks made depending upon length, customer request, etc...but these rods were the best all around rods that suited most fisherman and most fishing situations. EC's son Walton based most of his cane rod work on this same B taper. It's appeal and cast-ability are hard to deny.
EC's early rods were done in what was often refered to as a French finish. That is a matte oil rubbed finish on the blank and varnish (or some sort of shellac) over the wraps and patent number (if present). In the mid 40's, as demand for the rods grew, the shop went to an all varnish finish as it was less labor intensive and made it easier for them to meet demand.
EC's rods were never marked for length and line wt. There are some that have the owner's name on them. A few production rods have names for rivers in northern California like "The Yuba". The semi-hollow construction rods usually have the Patent number on them (Pat No 1932986). In later years the info from the stamped reel seats was moved to the butt section of the rods...see below for more. Sometimes a "hang tag" can be found with a rod. This is tag that hung from the rod sock or line guide while the rod was on the sale rack. The info on them varies but can include rod length, taper, rod weight, and line wt. Sometimes these can be found stuck up inside the rod tube cap if you happen to have the rod's original tube.
If an EC Powell rod has the two color black and cream wraps at the hook keeper it is almost certainly semi-hollow. If the rod has the Patent number inked on the rod it is almost certainly semi-hollow.
EC Powell had three sons, Buddy, Walton. and Clyde. Buddy was the oldest and he built a few rods. He was an accomplished tournament caster. Unforunately he was killed in a car accident in the late 30's. His rods are primarily solid built. Some were semi-hollow. Buddy's rods usually have a single black tip wrap at the hook keeper and often black tip wraps on all wraps. His semi-hollow rods often have the two tone black and cream tipping at the hook keeper and on all wraps as well. Buddy used EC Powell seats on his rods. Many of his earlier builds have an all metal aluminum slide band style seat that EC also used early on. At the end of the day, a Buddy Powell rod is just a type of EC Powell rod. These rods do not have Buddy's name and were produced in the same shop by the same folks. They are usually more for tournament style casting. Walton became a well known rod maker in his own right and there is plenty of info on Walt on this site. Clyde was the youngest and dabbled in rods a but ultimately did very little with it.
Tony Maslan was an apprentice/employee of EC's. He married EC's daughter and in 1954 EC Powell semi-retired and Tony took over running the rod shop. Some changes were made over time in rod finshing touches but the quality of the rods did not suffer in the least. Often collectors us the term "Maslan era" as a dismissive term that indicates the rod somehow has a lower value. This is simply not true in my opionion. EC Powell continued to work in the shop unitl his death in 1966. The chances of EC actually having his hands on a "Maslan era" rod are just about as good as they are for any other earlier EC Powell rod with the possible exception of a very early rod. The rods produced under Tony's watch were just as good in every facet that matters where fly rods are concerned. The use of agate striping guides did fall by the wayside. The wrap thread color did change a little at times due to different suppliers. And in the mid 70's the trademark EC Powell reel seat was done away with for a more conventional uplocking style reel seat. The "EC Powell Maker" mark was then inked on the rod vice being stamped on the reel seat. At some point Mr. Maslan was ill for a time and began working out of his house. The well recognized green and white mailing labels were changed to his Yuba City address. I have seen this cause confusion in the past.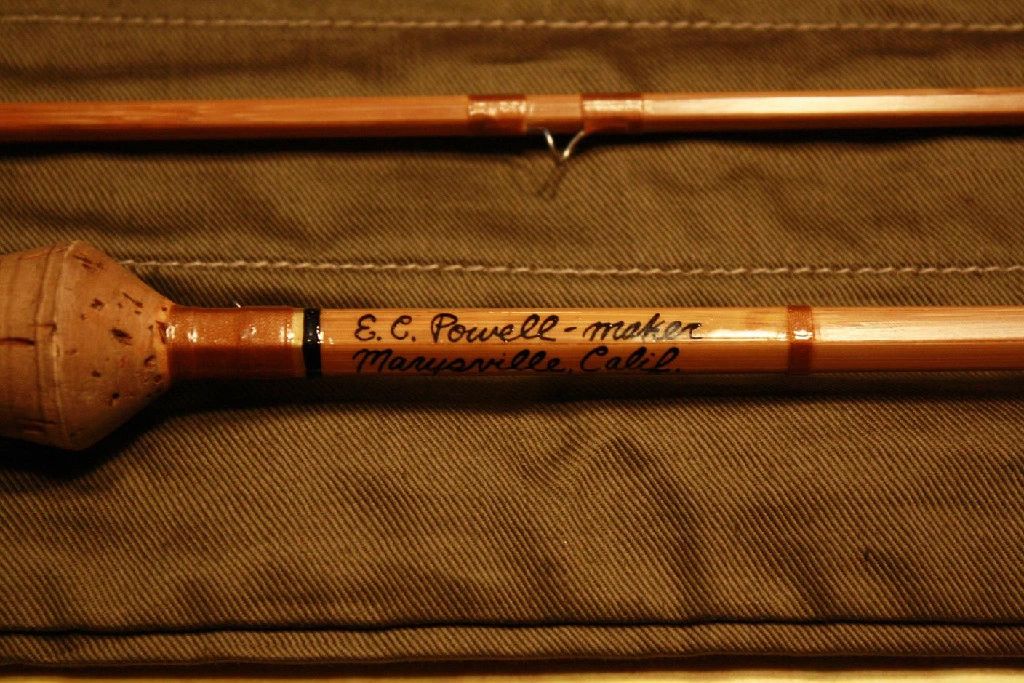 If you are seeking info on a particular EC Powell rod, any expert is going to want to know a number of things. The most basic and important being;
A) How long is the assembled rod and are all the pieces full length.


B) Is the rod a 2 piece or 3 piece rod. Almost all of EC's rods should come with two tips. So a bamboo rod that has one butt section and two matching tip is a 2 piece rod. A rod that has a butt section, a mid section, and two tips is a 3 piece rod. The number of pieces refers to how many sections go together to make the fishable rod.


C) What size are the ferrules. The metal ferrules on a bamboo rod are sized in 64ths of an inch. So a 15 ferrule is a ferrule with a diameter (inner diameter of the female or out diameter of the male) of 15/64ths of an inch. So to size ferrules one can either use a micometer or carefully fit the shanks of metal drill bits into the female ferrule. It's not necessary to push the drill bit in as this could damage the ferrule, but just find out which one will just fit in the female ferrule. Once this is determined you can use the size of that drill bit and multiply to get to 64ths of an inch and you have your ferrule sizes.

D) What the weight of the rod is in ounces. Only weigh the 2 or 3 pieces that would make the assembled rod. So weigh the butt and a tip (2 piece) or the butt, mid and a tip (3 piece).


Here is a very GENERAL guide to what semi-hollow EC Powell 2 piece rods should weigh based on length and line wt (for 3 piece rods add another .25oz to .5oz depending on the ferrule). Again, these are general and can vary based on taper and materials. Some odd length rods like 8'3" or 8'9" rods may fall between these numbers but this general set of rules should be applicable...

Trout rods:
7'6" rods were for 3-4wt lines and should weigh 3 1/4 to 3 3/4oz
8' rods were for 4-5wt lines and should weigh 3 3/4 to 4 1/4oz
8'6" rods were for 5-6wt lines and should weigh 3 3/4 to 4 1/4oz
9' rods for 5-6-7wt lines should weigh 4 1/4 to 4 3/4oz
Steelhead rods:
9' rods for 7-8-9wt lines should weigh 4 3/4 to 6oz
9'6" rods for 8-9-10wt lines should weigh 5 to 6 1/4oz




The preponderance of EC Powell rods were in the 9' to 9.5' range for steelhead. They built rods primarily for the big rivers of the west. There are shorter/lighter EC Powell rods out there and are quite sought after and in good condition can fetch a hefty price tag.