A few words on Walton Powell...
Walt was a true lifestyle outdoorsman. He loved to fish and hunt and he loved the places where wild game is found, particularly in northern California. His father E.C. Powell was a brilliant man who designed and built some wonderful rods. These factors came together to make Walt's work in rod building a natural evolution.
Walt never ran a button down rod manufacturing facility. He was not building rods with an eye to future collectors and historians (like me) who would look to be able to date, ID, and describe all of his work. He was in his element building rods for fisherman like him and creating a living out of what he loved. He preferred to sell rods out of the trunk of his car, at trade shows, duck clubs, and fishing conclaves across California and the world. He would build rods to sell, rods to custom spec, he would build rods to pay debts, and he would build rods to trade for legal and accounting services. When he struck out on his own in the 40's Walt built rods under his own name and continued to do so until his death in 2001.
The Walton Powell Rod, A Walton Powell Rod, and built by Walton Powell are words that, when seen written on the butt of a rod, stir images of the western fly rod renaissance of the late 60's and 70's...and remind me of the northern California of my youth. Walt was a good man. His word was his bond and a handshake meant everything to him. If he thought you were full of shit or that your casting stunk he'd tell you straight to your face. In short he was genuine and he did what he loved and loved what he did.
Walt worked primarily in three materials...bamboo, graphite, and fiberglass. He did experiment briefly with some other carbon/boron blanks in the 70's, but I have seen very few of these rods and I don't think he found them to be worth much as a fishing tool and he quickly moved on.
THE RODS:
Generally speaking, Walt's rods were not labeled with length, line weights, or actions. There are always exceptions - and as a good portion of Walt's work was custom builds - if the customer wanted it on the rod, Walt would do it. Another exception are his glass rods. Most These were labeled with length and a line weight range. At the time I think Walt felt, and correctly so, that that is the direction the industry was headed and to do so would improve the marketability of his glass rods.
Unlike his son Press, Walt did not usually use a system for serial numbering his rods. Early on his wife did serial number blanks sequentially by year as they were accepted for use, but those numbers did not always make it onto the rods. This practice was used off and on by Walt and his employees over the years, but again these numbers often did not make it onto the finished rod. There are a number of rods out there with numbers on them, but what these numbers mean is unknown. Some probably meant something to Walt, some were probably added at the customers request. Some appear to have numbers in them indicating the year of make. This may or may not be the case. Again, there was no standard at all and so any information gleaned from a serial number on a rod must be taken with a grain of salt. Perhaps the customer who ordered the rod wanted a serial number reflecting his wedding date, birth of a child, or some other meaningful date. Walt would have inscribed the rod as directed. It is nearly impossible to correctly date rods based on the "serial" numbers on Walt's rods. There is almost no way to know for sure outside of some other form of documentation of the rods history. Here again, this sort of paperwork is rare. Walt was interested in getting the finished product - a fine fishing tool - into the hands of the fisherman, not in documenting it's sale.
Fiberglass - Walt built his glass rods primarily on 2 piece custom spec (proprietary to Walton) Conolon blanks - these were a burnt orange/brownish color. He had a long standing relationship with the company. Walt started with glass while in Paradise in the mid 1950s. These early glass rods were labeled as "Para-flex" rods. Most of these were on unpainted blanks and made with brass Super-Z ferrules. Every one of these Paradise glass rods I've seen has been 8' or 8'6" and seem to be a 6wt rod. Most have a red rubber top to the grip. These rods have Walt's non-anodized all aluminum up-locking seats, snake guides, and rust/orange or yellow/green wraps. These rods are somewhat rare. They usually were sold without a tube or perhaps in an un-labeled champion style tube. Walt's recognizable green/foil labels did not come into being until after Walt had been in Chico for a bit.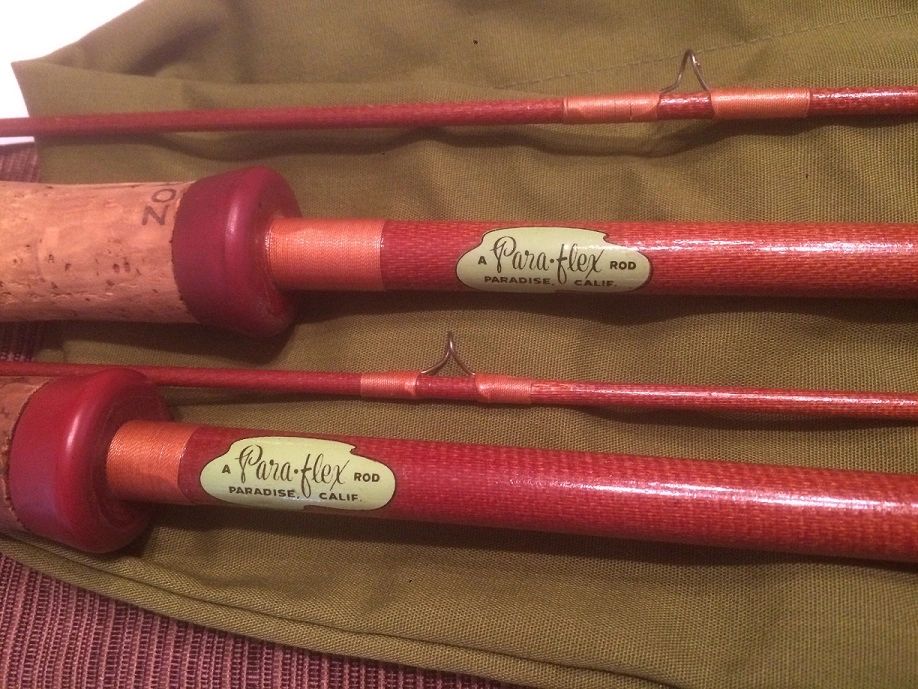 Once Walt moved to Chico the glass rod finishing was on painted and unpainted glass blanks with Powell aluminum uplocking seats and the more oft seen green wraps and metal spigot ferrules. Most of these have a white decal with Walton Powell and either DF or SH and numbers for length and line wts. Most of his glass rods were either 8.5 or 9' with most being either 5-6-7wt (DF) or 9-10-11-12wt (SH). There are a few Walton Powell fiberglass rods out there built on Phillipson blanks. There are a few tip over butt ferrule type rods with the small metal ring at the base of the tip section (female ferrule). I have also seen one Walton Powell glass rod that was built on a Phillipson Epoxite blank with a glass spigot ferrule. Most of these rare Phillipson blank rods are 7 or 7.5 foot rods and, while not usually labeled, cast a 4wt nicely. There are a few 7'3" Conolon blank DF rods out there as well but they are pretty rare as well.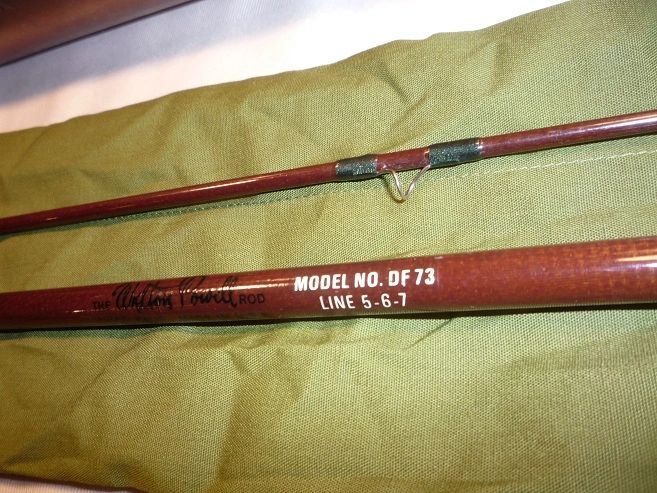 Graphite - Walt's primary graphite period ran from the mid 70's to the late 80's. These are the fairly common gray blank "The Walton Powell" or "A Walton Powell" rods. These rods were built on standard graphite blanks rolled on Walt's tapers by Performance Composites out of San Diego, CA. These rods are generally quite slow, particularly by todays standards. I have seen them in lengths from 6 to 9.5 foot and they are almost never labeled for line wt. Finishing was usually black aluminum all metal uplocking seat (occasionally with a wood insert in later years) with black, green, or maroon wraps. In the mid 80's Walt began selling these rods in a 2/2 configuration which he called the "Silver Signature" rods.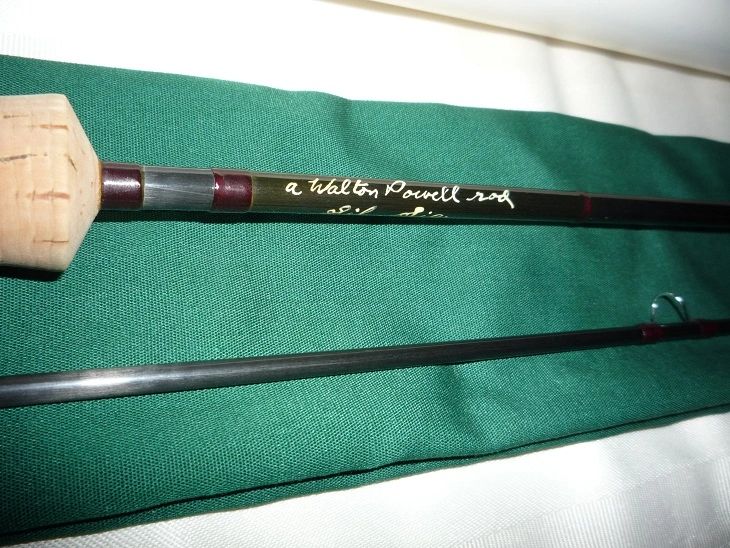 When standard graphite started falling out of fashion and these rods were not selling well Walt (while as always working in cane) began developing and producing, in partnership with Bruce and Walker of the UK, the Hexagraph rods. These rods were hexagonal like a cane rod but were made of triangular strips of foam backed by graphite. The early hex rods came out at the time Walt was building rods in Quincy, CA. These rods were unpainted and were a dark green/almost black color blank usually finished with a black with wood spacer reel seat and dark green wraps. Labeling was all over the map - sometimes with a Walton decal, sometimes with length and line wt...I even own one that is hand labeled as Walton Powell on the first flat and then Nostalgic 96 on the next flat. I assume in reference to the old school cane style action. Anyway, these rods were used in the filming of A River Runs Through It - but in their updated cosmetics - painted to look like bamboo with dark green or maroon wraps and a wood insert uplocking seat in aluminum or gold. In the early iterations these cane painted hexagraph rods were called Segmented Graphite. Not many of those are about as the name was soon changed to Hexagraph. In general these faux bamboo rods are hand scribed with Walt's name, the Hexagraph name, and length and line wt. In late 1992 Walt sold the Hexagraph line to his good friend Harry Briscoe. Sadly, Mr. Briscoe closed down the Hexagraph Fly Rod Co at the end of 2014 (
www.hexagraph.com
). The Hexagraph rods, both under Walt and Harry, were always built in Chico, CA. They are truly fine rods and a wonderful fishing tool - they are much loved by those lucky enough to own and fish one.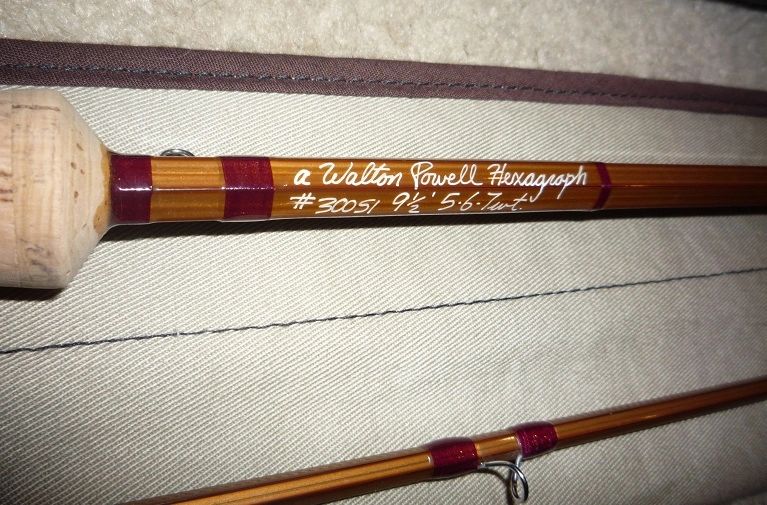 The final phase of Walt's graphite production was near the time the company was lost. Performance Composites (later Graphite USA) out of San Diego was once again producing blanks for Walt for a line Walt called the Dual Helix rods. These were moderate action graphite rods with blanks colored a sort of sea blue green. Finished with wood insert Powell seats and maroon or maroon tipped in white wraps they are very lovely looking and casting rods if you like moderate graphite. They were not particularly light rods, but are wonderful to fish and are quite durable. After the loss of the company Walt continued to build and sell these rods under his wife Dianne's name. These were usually hand labeled in a gold decal with Dianne's name and often Walt's name and length and line wt. These rods are few and far between and Walt was selling these right up until his passing.
The last bit of graphite Walt was involved in was building and selling a few Powell Rod Company blanks that were built in their shop but hand inscribed with 'Walton Powell' often with length and line wt. These were almost exclusively built on Signature Series and West Branch blanks (see the Signature Series page on this site) and were sold out of Walt's trunk primarily. Walt received a small allotment of each blank production lot for these rods per an agreement with Press. Again these rods are somewhat rare as there were not that many sold.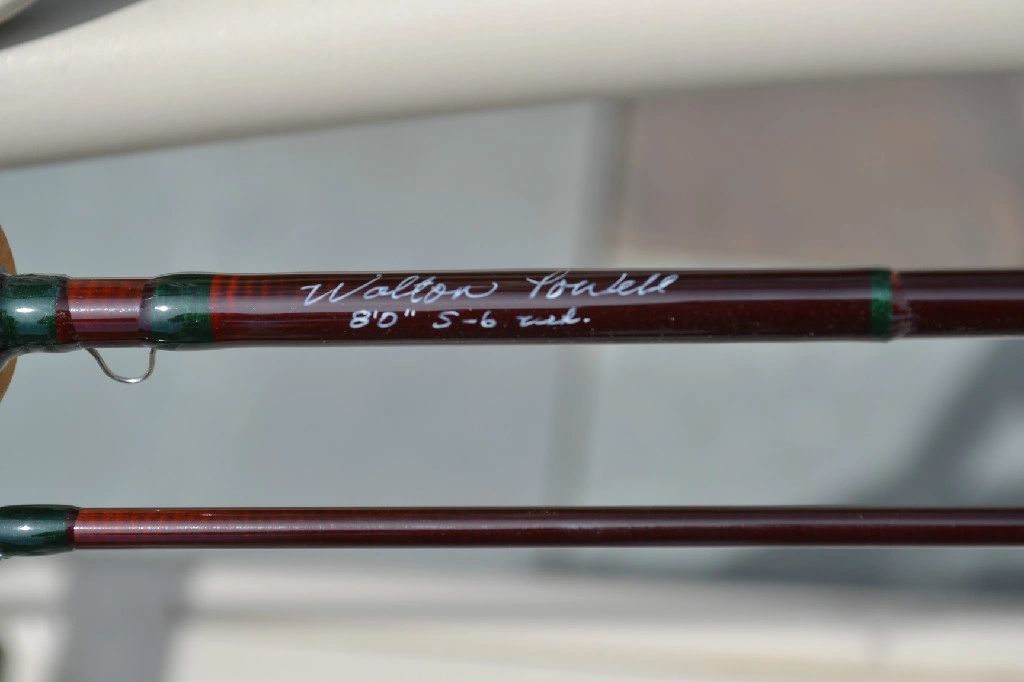 Bamboo - Walt built quite a few bamboo rods over the years. Many were wonderful, some not so much. It is very difficult to neatly sort out the history and identification of Walt's work in cane. He worked in EC's shop for a few years and struck out on his own sometime in the 1940's. Initially out of Bellmont in the Bay Area and then to Paradise, his early rods are varied. Primarily soft action rods finished with dark green wraps, red and gold aluminum seats, and Aetna "Foulproof" guides these rods are laid back casters but not particularly stunning lookers. Most have the common Walton Powell black decal At some point after moving to Paradise he came up with the signature Powell uplocking seat and began using those. A few of these rods have a Paradise Walton Powell decal (oval in shape) and the early uplocking seats features a keyway groove on the uplock threads for the slide ring. These quickly gave way to the standard configuration seats that are most common. Walt built cane across the spectrum - short light rods, long Salmon rods, semi-hollow, solid, 2/2, 3/2, 2 butt 2 tip Companions and 2 butt 3 tip Presidentials. The Companion rods consist of two butt sections with matching tips that fit interchangeably with either butt section. One butt is shorter, generally by one foot, than the other butt providing a shorter matching rod for smaller streams or for a fishing companion! Most of Walt's cane rods were built on variations of the B taper.
As I said, sometimes the numbers on the rods are meaningful, sometimes not at all. Typical wraps colors were dark green, black, chestnut, chestnut with red tipping, and maroon. Most of Walt's semi-hollow rods were longer heavier Salmon and Steelhead rods where Walt felt the weight savings was worth the added work. There are a few semi-hollow shorter/lighter rods by Walt out there, but not many. And some are probably unmarked...so if you are not buying from the original owner there may be no way of knowing.
For the most part Walt's cane rods were lighter in color and many had a rubbed oil finish. But as I've stated numerous times, there is no hard and fast rules regarding Walt's rods. Overall your best bet when trying to evaluate one of Walt's cane rods is to get your hands on it and cast it. It is also good to get info and photos to an expert in vintage tackle who knows Powell rods. Walt's favorite trout rod configuration was the 2/2 8' 5-6-7wt. I have yet to cast a cane rod of Walt's in this configuration that was not truly outstanding...in my opinion.